The user representative represents those who will use the final product or service that the project delivers.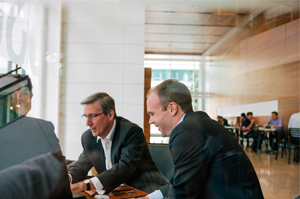 The user representative must represent all those that will use the project's outputs since their input will help shape the project outcomes and determine its success.
A project may have a broad range of users. Usage may comprise direct usage of the asset (e.g. users of an electronic document and records management system), indirect usage such as network operations where the product or asset forms part of a network, or maintenance or facilities management users.
This role specifies the needs of users and continues to monitor that those needs will be met throughout the life of the project.
User representative – responsibility statement
The user representative has the following responsibilities:
Support the Project Owner and assist the Project Owner in directing the project;
Advise the Project Owner of any user issues that may impact the project;
Advise the Project Owner of the impact on users of any changes being considered by the Project Board;
Negotiate with the Project Owner and supplier representatives regarding the provision of user requirements balanced against the cost of providing those requirements;
If there is more than one user representative, liaise closely with the other role holder for the benefit of the project;
Ensure all stakeholders understand the operation of the project governance arrangements and their role in it;
Ensure all users are advised of any issues raised at the Project Board that may affect them;
Represent the interests of their user clients to the project;
Resolve conflicts between users on the project;
Provide the perspectives of all users on the matters the Project Board addresses;
Establish and chair user groups as necessary and ensure a consolidated user view is presented to the Project Board;
Maintain a focus on the delivery of user's needs throughout the project;
Take responsibility for the development of user requirements specifications, acceptance criteria and user acceptance testing documentation, aided as necessary by the Project Manager;
In developing user requirements, maintain a whole of life perspective;
Ensure the quality of user project deliverables meets the standards laid down by the project or program management;
Commit resources to the project as required to meet the project needs and develop user documentation;
Assist the Project Manager in managing user resources on the project.