Program & project governance you can trust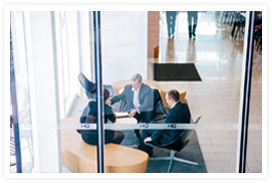 Ross Garland + Associates establishes governance frameworks for projects, programs, and entire organisations. These frameworks provide a simple, logical and consistent approach to the delivery of the organisation's portfolio of programs and projects. They are well supported within organisations because they provide clarity of responsibilities and are focused on business outcomes. As roles and accountabilities become clearer, stakeholder relationships within organisations, programs and projects become more effective.
In organisations suffering from committee overload, our work can simplify the committee structures which reduces the workload of senior executives. We ensure the accountabilities and associated decision rights at each governance level (project, program & portfolio) are consistent with each other and logical, providing the clarity that delivers effective governance arrangements.
Find out why our program and project governance is so effective.
6 benefits of involving us in your project or program
Greater visibility and control for executives over program and project investments;
Increased decision making confidence;
Improved engagement with key stakeholders and smoother working relationships;
Increased confidence that projects will deliver value for money;
Seamless integration with best practice and in-house methodologies;
Increased clarity of roles, accountabilities & responsibilities.