The supplier representative represents the suppliers of services to the project and provides their perspective and expertise.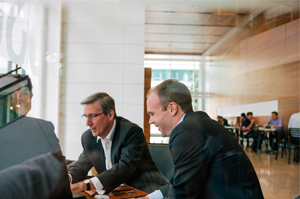 The supplier representative represents the interests of the suppliers of services to the project. Because the nature of services provided on large projects may change over time, it is possible the holder of the supplier representative role may also change. The role may be provided by an in-house service provider or an external provider or both. The supplier representative must have the ability to ensure supplier resources are committed to the project.
Supplier representative – responsibility statement
Support the Project Owner and assist the Project Owner in directing the project;
Advise the Project Owner of any supplier side issues that may impact the project;
Ensure all suppliers are advised of any issues raised at the Project Board that may affect them;
Advise the Project Owner of the impact on suppliers of any changes being considered by the Project Board;
Represent the interests of all suppliers to the project;
Work with the Project Owner to oversight the activities of suppliers and represent their interests and perspectives at the Project Board;
Resolve conflicts between the suppliers to the project;
Provide the perspectives of all suppliers on the matters the Project Board addresses;
Chair supplier forums as necessary;
Interpret technical aspects of the project for the benefit of less technical Project Board members;
If there is more than one supplier representative, liaise closely with the other role holder for the benefit of the project;
Commit resources to the project as required to meet the project needs, or ensure the necessary resources are provided;
Ensure the quality of those project deliverables that are the responsibility of suppliers meets the standards laid down by the project or program management;
Relinquish the role of supplier representative in the event that the project has progressed in its lifecycle to a point where another organisation is better placed to provide a person to fill the role (e.g. as the project moves from design to construction).